The emergence and persistence of the CoVid-19 crisis continues to have a profound financial and societal impact on organizations of all types and sizes. To help ensure that every trade union and employer is able to provide their valued employees with the very best general-purpose face covering available, we offer the Stay Safer Reusable Protective Face Covering with easy purchase and finance terms.
Product Options
We offer two versions of our face covering.
-- Our Standard model features a tribo-electric air filter and inner/outer layers made of Supima® cotton manufactured without an antimicrobial.
-- Our Superior model features a tribo-electric air filter and inner/outer layers of Supima® cotton manufactured with a QAC-based antimicrobial agent.
Minimum Order and Pricing
The Stay Safer Reusable Protective Face Covering is available on a made-to-order basis with a minimum order quantity (MOQ) of 1,000 units. We are presently waiting for our test results re: the new ASTM F3502 Standard Specification for Barrier Face Coverings before accepting orders for delivery.
Our pricing is volume-based and volume/customization dependent. We expect to make our face covering commercially available to the public in smaller quantities in March 2021 and on Amazon and other online retailers shortly thereafter. We heartily invite inquiries and expressions of interest.
Subscription Pricing
Employers fund their health plans on a per employee per month basis. At the same time face coverings must be replaced regularly. Buyers can enjoy the peace of mind of knowing they have a scheduled, consistent supply of replacement face coverings on a timetable that works for them with our subscription plan that features PEPM payment terms and scheduled replenishment, Under such an arrangement a
-- a face covering replacement schedule is selected(e.g., quarterly);
-- a deposit is made equal to ~20% of the est. annual face covering budget; and

-- the balance is paid in 11 equal monthly payments.
Intelligent Production Approach - "As they come, we will build it"

New product launches − especially for revolutionary products like the Stay Safer Reusable Protective Face Covering − carry a certain degree of risk that demand will be more than forecasted. Historically, manufacturers estimated demand, make large upfront investments, and expensively mass produce and store products that often resulted in excess stock and avoidable waste. Giving way to this model, the COVID-19 pandemic created a worldwide surge in demand for the raw materials and components used in face masks, creating global shortages, inflated costs and turned down/unmet end-product orders.
Manufacturing is embracing on-demand sourcing and production, not just to reduce waste and expense but to also optimize delivery speed, lead times, sustainability, customer satisfaction, etc. New strategic capacity planning tools enable manufacturers to blend make-to-stock (MTS) production and make-to-order (MTO) capability to achieve better operational performance, lower inventories, optimized capacity use and higher client satisfaction.
The production of the Stay Safer Reusable Protective Face Covering is managed by Privy Label, an award-winning, high-tech private label clothing design firm that's forging new ground in an outdated industry with a fresh vision of it. Specializing in curating designs for targeted audiences, it has mastered the nuances of product development and boutique custom products. Focused on eco-friendly manufacturing, it eliminates the waste created by traditional overseas mass production; the unneeded carbon footprint of oceanic shipping; and the harm done by non-eco-friendly materials and processes.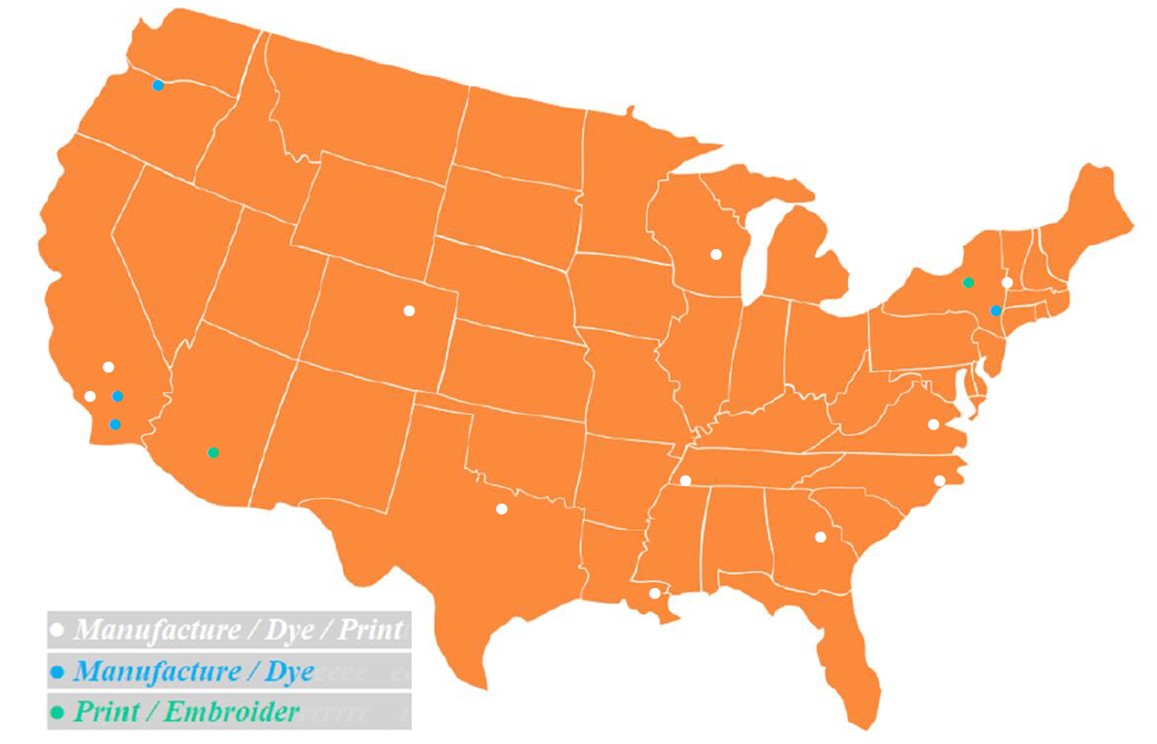 AlthoughPrivy Labelhas vetted mills and manufacturers throughout the world, the Stay Safer Reusable Protective Face Covering are made from materials sourced in the US* by a directly connected, localized, supply chain comprised of a network of domestic MTS and MTO garment manufacturers, (screen, dye sublimation, digital heat (transfer, press and plastisol) custom printers and high-speed embroiders having a history of high-quality production, cost-effectiveness and on-time delivery.
Guided by a sophisticated digital spec/tech pack, and having redundant capability, this network is comprised of large-scale facilities able to handle base demand, mid-sized overflow facilities and small-batch cut-sew-trim shops that can meet most production volumes and schedules, reduce waste and deliver consistent customer satisfaction.

* To create a tribo-electric air filter, our mask's center layer is silk chiffon. Because silk has not been made in the US since the 1990s, we source it from a US-owned textile company in India.
Offer Our Face Covering on a Voluntary Basis and Pass the Substantial Savings on to...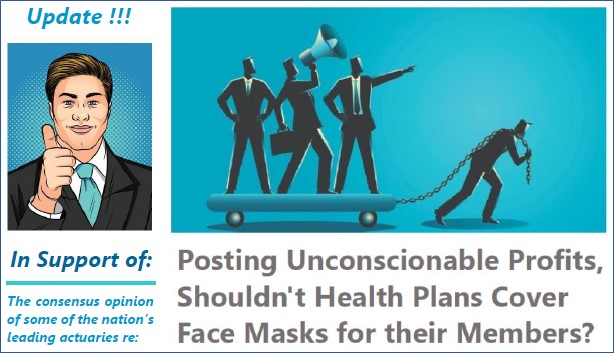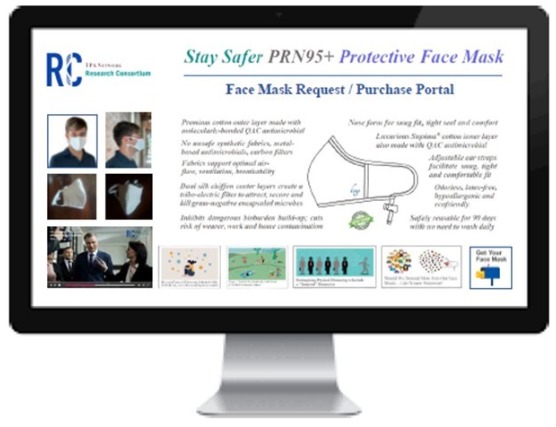 Health insurers, plan administrators, labor unions and brokerage firms can make the Stay Safer Reusable Protective Face Covering available to their members on a voluntary basis and, by doing so, extend wholesale pricing to them. Indeed, there exists an excellent, no-cost way for some payors to leverage their bulk purchasing power to benefit certain of their members and while generating an enormous amount of corporate goodwill.
We are flexible and open to accommodating most voluntary sponsorship / cost-sharing arrangements. Commercial health insurers that are subject to the ACA's Medical Loss Ratio rebate provisions (especially, Medicare Advantage plans) are encouraged to read our articles on this topic — and our survey of actuaries and health policy experts (which includes input from a member of the CMS Medical Loss Ratio Division | Oversight Group. Each provides insight, guidance and encouragement for payors to leverage what would otherwise be rebatable dollars... to provide face masks to their members.
We are linking to familiar Shopify- and Amazon- powered storefronts and proven, national fulfillment facilities to ensure an easy, effortless experience. We are also establishing relationships with the leading providers of CMS-compliant supplemental OTC benefit administrations services to facilitate offering our face mask to plan members on a voluntary basis using a familiar industry vendors.
Why the Stay Safer Reusable Protective Face Covering is a Genuine Value
Unfortunately, many face mask buyers only consider price in their purchase decision. As a result, they often acquire masks that don't meet their needs or expectations. To evidence this, click here to see a list of complaints that appear on Etsy, Amazon, Target, Walmart and other sites that sells face masks.
When buying anything, it's important to note the distinction between an item's price, its cost-of-use and its value. Price, is the fluctuating (negotiated) amount paid, by a consumer, to get something, calculated in money. An item's total cost-of-use is the purchase price plus all of the expenses incurred to use the item over its useful life. Value is the unchanging utility, usefulness or worth of an item to the user; it cannot be measured in money. Consider the popular example of this, first advanced by Plato: water is essential for human survival yet low in price, whereas diamonds are ornamental, not at all necessary for survival, yet very expensive. This paradox can only be explained by the construct of value. It is very difficult to obtain almost anything in exchange for water, however, a great deal can be obtained in exchange for a diamond. Price, as demonstrated, often has little to do with value.
The Stay Safer Reusable Protective Face Covering represents a genuine value in comparison to lesser priced dace coverings. First, it serves a dual purpose: in addition to helping to mitigate the community spread of COVID-19 it is intended, designed and purpose-built to provide more protection than an ordinary face mask — with two highly effective means focused on pathogenic microbes and reducing the risk of dangerous bio-burden build-up. In addition, it doesn't require the regular purchase and insertable replacement filters (that can very easily cost from $10 to $30/month). Because our mask is made of highly durable and resilient materials it can withstand more washings than most. Further, because our mask does more than just block pathogens, it does not require as many cleanings or the need for high-temperature washing; all of which contribute to it having a longer useful life. More-over, because our mask is made from only natural, eco-friendly, non-toxic materials that are safe to breathe through. The extra measures that we have taken to make it more adjustable, comfortable and breathable enable it to be worn for longer periods of time without constant adjustment.
For all of these reasons and many more, we believe that the Stay Safer Reusable Protective Face Covering represents the absolute best value on the market today. It is simply "the Finest Reusable Face Mask in the World".

Color and Customization Options
To optimize our production process, and keep waste and expense to a minimum, our face masks are all produced in white fabric and then dyed, printed or customized at regional facilities. Leveraging Privy Label's network of US garment manufacturers, custom printers and high-speed embroiders, (see above) our face masks can be produced in almost any color (combination) and emblazoned with an organization's name, logo, tagline, slogan, etc.
Depending upon the order size, replacement schedule and available production lead time, we offer a variety of face mask customization options including dying them in an organization's proprietary colors. Ear straps, and even the adjustable push-button locks, can be customized. All customizations are facilitated at cost plus 10%.